HOME Skull with Citrine Skull with Garnet Skulls with hair Skull named Wilson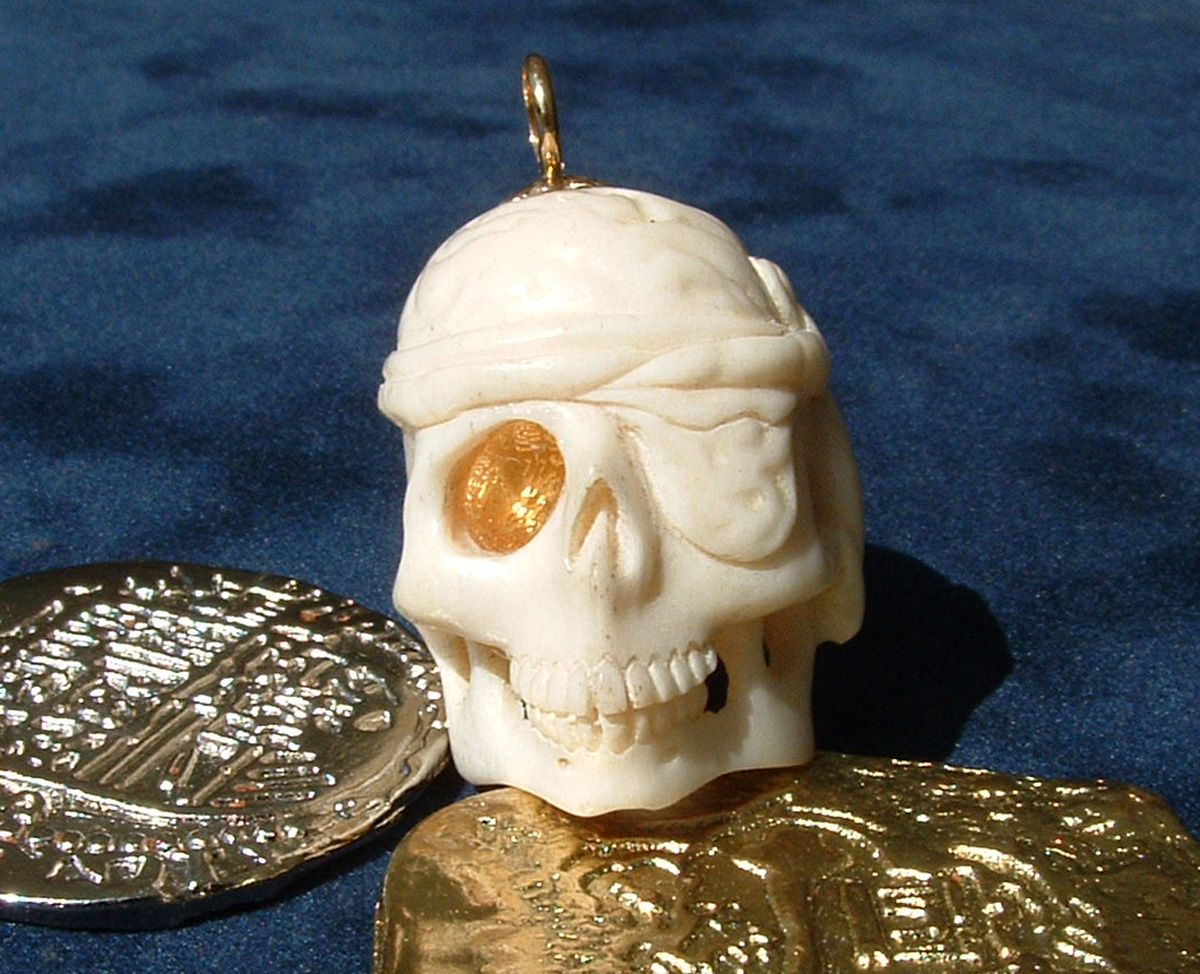 image enlarged to show detail
Carved Antler Skull with inset Citrine

Hand Carved Skulls with inset gemstones
The most recognized symbol of the free spirit of the pirate.

These limited edition skulls set themselves far apart from the others. Being painstakingly hand carved from natural shed antler bone, these one eyed, scarf clad skulls are unmistakably 100% pirate! You can show your colors with these too, because some of these one of a kind beauties displays a natural gemstone in his 1 eye! We have Garnet, Citrine, Silver Topaz, Amethyst and Peridot available (while supplies last, there are only a limited number available). Or, for a slightly higher fee, we can custom mount the stone of your choice.
We have 4 special skulls with REAL HAIR! Meticulously done one strand at a time, hours of labor went into these. This is the ultimate pirate ornament. You'll have a blast explaining how you came to possess this treasure! Send us your original stories, we'd love to hear from you. Collect one or collect 'em all!
The most recognized symbol of the free spirit of the pirate
Painstakingly hand carved from naturally shed antler bone. These one -eyed , scarf clad skulls are 100% pirate.
Some of these one of a kind beauties have a natural gemstone in one eye!
We have others that are not mounted or have stones set yet. These can be made to order as stickpins, hatpins or whatever your imagination
can dream up. Custom stones can be added. You get to design it and we will make it up for you. Ask for details!
We have 4 special skulls with REAL HAIR! Meticulously done one strand at a time, hours of labor went into these. This is the ultimate
pirate ornament.
Some have jaws attached, while others are upper skull only. You choose